Asia
1948 Taiwan's history begins
Holy Name Province of Taiwan came about with the evacuation of our Sisters from the Mission in China. From 1931 until the deportation of the final 6 Sisters in 1952, 37 Sisters worked with great zeal and commitment in an evangelization by word and service. In an effort to conduct the Sisters to safer places -some who were already under house arrest, some who were deported to their home countries, the Congregation made plans for the final evacuation of the Sisters to Formosa, now called Taiwan.
After being expelled from China, the 32 Sisters arrived on November 15, 1948 in Taipei Songshan Airport from Shanghai . Having no place of their own, they were sheltered at the Spanish Dominican Sisters' Blessed Imelda High School. The comment written for the chronicle by Sister Veneranda who said: "the Sister in charge kindly received us, a group of refugees and brought enough chairs for us to sit on. Then a priest from the Divine Word Congregation took us to the conference room of the Catholic Church where we enjoyed our first lunch (sandwiches prepared by Sister Caritas Kroger). The Sisters made their home in a classroom until they were taken to Kaohsiung.
It was in Kaohsiung that plans were made to establish themselves for mission in Taiwan (then Country was then called Formosa. The Sisters met with Msgr. Arregui, OP, Apostolic Prefect of Formosa to contract for the perpetual use of a building on the Street named Wu Fu, thus giving the Community its name.
In 1951, the SMIC Formation House was established in Kaohsiung: The first 7 postulants (name given to those beginning formation) entered in December. In May of 1953, this first group became novices.
In 1967 Tainan was established as a Regional headquarters also where the novitiate formation House was established . After becoming a Province, it became the site of the Province headquarters.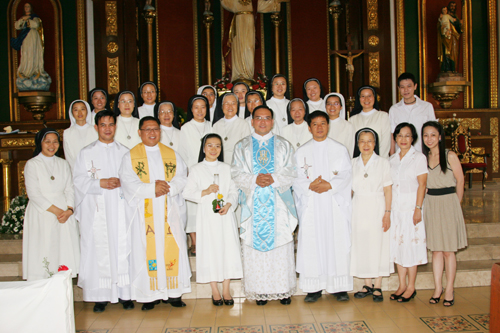 Pastoral works have always been linked to evangelization, education and health care where the Sisters continue to make significant contributions in these areas. In education, the Sisters are well established in kindergarten services using the Montessori method. The Sheng Kung School in Tainan is renowned for its educational quality to the mid and high school level. St. Joseph Hospital in Kaohsiung is a general hospital that has extended many services to the care of the elderly which is a new area of social concern for the country. Several social services are provided with after school assistance as well as with protective care of children and youth. More recently a program to assist immigrants and their families with inculturation was begun at the bequest of the Church.
Continue reading about the Province histories :: USA • Germany • Asia • Namibia • Brazil