Namibia
Vocational promotion in Namibia
New Novices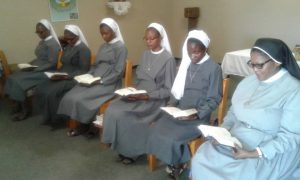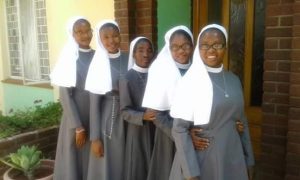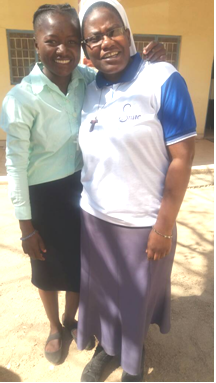 Vocational Workshop
By Sister Helena Simuku
The Diocese of Windhoek in Namibia held its first Vocational Workshop in Opuwo Good Shepherd Parish, (Kunene Region). I went to represent our Congregation of SMIC sisters of the Namibia Province. We started Friday evening July 6th to Sunday July 8th 2018.
This workshop was conducted by ten Congregations of religious women and men from all over Namibia, under the theme: "Let anyone accept this who can" Mt: 19:12.
100 youth attended the workshop. The majority expressed their feelings that the weekend was indeed successful. They thanked the parish priest and all representing Congregations for the wonderful presentations we had shared with them. I am in contact with some young girls interested in joining us. Let's include them in our prayers.
Words from Pope Francis to encourage youth: "Vocations that are born in prayer, from prayer and only through prayer can assist young people to persevere and bear fruit."
Closing remarks, dear sisters, let our lights shine brightly throughout the world.
Final Profession of Sr. Emerensiana Hawanga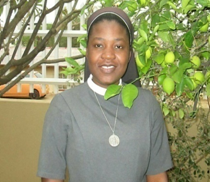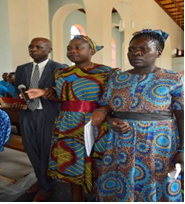 Sr. Emerenciana with parents presenting her to the Congregation and then in habit
Jer 5:1 before I formed you in the womb I knew you.
With a great joy the SMIC family, my family and friends at large gathered together in Tondoro (Namibia) at the parish for the celebration of my perpetual Vows. The Eucharistic Celebration was presided by Fr. Maurus Kantana Kakuru (OMI) the Vicar General of Rundu Pastoral Region. I was honored to have him because he presided at the Mass when I made my first profession. My very thanks goes to him and let us keep him in our prayers since he will be celebrating his 25th silver jubilee as a priest on May 2018. My gratitude goes to our Generalate sisters in USA and the Provincial councils of Namibia for approving my request to make this final step in religious life. Many thanks and I pray for you. After the entrance hymn the provincial calls me by name and I got up and said " Yes I am ready." The whole community and parishioners welcomed me with applause. As I was sitting with my parents they brought me to the altar to meet the provincial (Sr.Clara). A conversation was between my parents and the provincial asking them whether they understand the way I chose to follow Christ; their answer was "Yes," they understand fully. After that they give me to my provincial and I went to remove my traditional dress and dressed in a religious habit. As a sign of renouncing the world and following Christ, I give back the traditional dress to my parents telling them that I am thankful for their support on this way of life and that I have decided to give myself totally to Christ forever. "This was the most touching and tearful moment but I believe that everything I do, I do it for Christ." My parents received my traditional attire and I joined my fellow sisters. What moved me too was when the priest said: final vows is a serious commitment, you might come along with challenge but there are more challenges awaiting for you outside this Church. But with those challenges be not afraid, God will always be with you and will protect you". I'm grateful for God's countless blessing in my life and my gratitude to my SMIC family for the beautiful celebration and for your encouraging words on my journey. And thanks to all who accompany me with their prayers. God Bless you all!!
Continue reading about the Geographical Units :: Angola Mission • Taiwan and Philippines • Brazil • Germany • Namibia • USA