Angola Mission
Experience in Angola
"Blessed are the poor in spirit, because the Kingdom of God belongs to them." (Mt 5,3)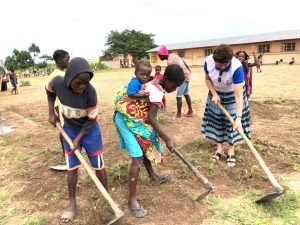 It is with joy that I share with you my feeling of gratitude to God and to the Congregation for the opportunity to know Angola and to have together with our Sisters the experience with those suffered people and favored of God.
A visitor to Africa does not return the same. This is how I felt after some days of experience in the city of Malanje, next to Katepa, where our Sisters are present.
I had the grace to stay with our Sisters and to participate and share closely in their community life in their domestic works, prayer life, socialization. Daily Eucharistic celebrations are the way they celebrate in life, faith, resistance, authenticity, courage and confidence. Each day the women arrived especially very early at the church with their children on their back, to pray the rosary, sing many songs and have moments of personal prayer.
The Saint Anthony School, administered by our Sister Marivalda is an arduous work, but gratifying because the Sisters carry through the mission to educate, a task which was entrusted to us by our founders Bishop Amando and Mother Immaculata. It was gratifying to participate in "the Campaign" a day in which classes are suspended and each child brings her/his hoe, duster, bucket, basin, broom to clean the external area of the school. This morning activity was a time of much interaction with students and the educative community. In the afternoon, we worked with the teachers on the theme Emotional Intelligence. The methodology used was a circle chat about the feelings and the qualities of each one in order to better relate with oneself and with others.
Another experience was the visit and the participation in the Sunday Celebrations in the Villages with the Sisters and the Priests. It was a strong event for fraternity and participation in the midst of a reality of much poverty, illness and lack of the basic sanitation. It touches our heart to see hundreds of children without one toys, the necessary food for their good development, education, health and their rights as children. Oftentimes they are children taking care of children.
I give thanks to God and to each Sister who contributed to my staying in Angola during those days.
Sister Lioneide Brito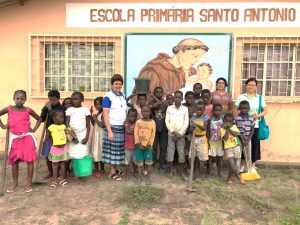 A very moving memory came to my mind when I arrived in Angola this year. I remembered that Sr. Veronica Lee, as soon as she entered the house of our sisters, in 2013, she said: "Africa entered my life too late." I agree with her. For some of us Angola Mission came too late, but for the congregation, it is a "kairos", the time of God's grace. I think that Angola Mission is a SMIC dream that became true. I still remember our discussions about a new beginning in terms of mission during events we took part when we celebrated 100 years of history. I can say that our mission in Angola is just the new beginning we dreamed about because of some elements that from my understanding were clearly present in Santarém, in 1910.
The first element is poverty. The reality of poverty that the population is submitted in Malange is something that breaks our hearts. When I looked to those kids, some of them with exposed wounds and wearing old chothes, and paid attention to their way of looking at us, I could not close my heart and turn my face aside. I let them move the best side of myself in terms of compassion and capacity of becoming a better human being. I think this was the feeling that moved Bishop Bahlmann, Mother Immaculada and the group of Sisters when they arrived in Santarém. Experiencing that extreme poverty, I recalled a prayer from Gandhi that inspires me very much: "I only ask God do not let me be indifferent to my brothers and sisters that in poverty are living."
The second element is a simple lifestyle. The sisters that embrace Angola Mission must make an option for a very simple lifestyle. There is no other way of living among the poor. I also could see the examples of other consecrated men and women from other congregations living there. This is the Gospel way and also the inspiration that moved our founders at the beginning in Santarém. Our priorities are not ourselves, but those to whom we are sent to serve.
The third element is to be always ready to serve. Readiness is something that demands a great deal from those who freely get themselves immersed in a reality like Malange. It is impossible to close the arms or sleep quietly when you hear that someone is dying or when someone knocks the door with the body burning in high fever. How to close the ears when someone asks for a glass of water or when a child calls your name? It is simply impossible for those who have a heart of flesh. I saw how our sisters quickly got up and responded to the needs of people who looked for some help in different areas. Was not this kind of situation that characterized the first years of the young community in Santarém?
Summing up, to serve in Angola as a missionary, we need to make a clear option to open ourselves to face extreme poverty, to embrace a simple lifestyle and to exercise our readiness to serve those who can not wait. They challenge us to give priority to themselves. Because of the urgency of the poor, who cry out for justice, dignity and life in abundance, we need to learn how to deal with our cultural differences as SMIC, in order to live out our beautiful and exciting, but also challenging and difficult charism. This dream that inspired so many sisters before us must continue throughout history.
Sister Silvia Corado do Amoral, SMIC
SMIC Team in Angola
2017 SMIC Team adjustments in the Angolan Mission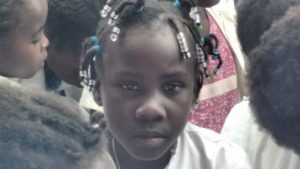 Prior to the return of Sister Mirna Dias to Brazil in May, Sister Marivalda Ramos arrived in Angola to prepare herself to administer the School in the Tamba Village, as well as join the rest of the team of SMIC to serve the various parish ministries of Malange. At this time, Sr. Marivalda updates us with her work specific to our educational ministry as it addresses the needs of youth.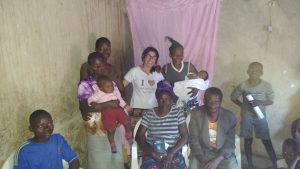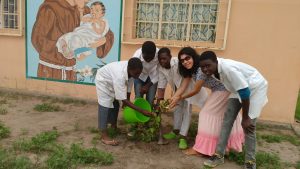 I will give thanks to the Lord all my life!
The Congregation of the Missionary Sisters of the Immaculate Conception of the Mother of God has been present in Angola, Africa since 2012. The work is carried out together with the Franciscan brothers of the Province of the Immaculate Conception of Brazil.
Our missionary work here in the Angolan province of Malange comes in many forms. In education, we developed the mission with children and adolescents in a primary school located in the village of Tamba. As SMIC, we work in solidarity with the public education network in order to collaborate in quality of learning, as well as to promote the integrity of persons with the fundamental values of life, aimed to promote a culture of peace and non-violence in Angolan lands.
Last month we held a seminar at the Santo António School with students from the 3rd to 6th grade on two topics that we consider relevant to the reality here. Alcohol dependence and sexually transmitted diseases. Some of the students' families, were in attendance at this seminar, as they are active members of the institution and play a very important role in the development and quality of teaching.
Here in Angola, people start drinking at a very young age becoming dependent or alcohol abusers early in life. In the parish, I accompany a group of "ex-dependents"; recently recovered from Hope Farm in Huambo. In their reports, they had contact with drugs while they were still adolescents. The group also consists of adolescents and young people who still use alcohol and other drugs but who want to stop using.
With regard to the issue of sexually transmitted diseases, another challenge in Tamba, is that of adolescents with communicable diseases, mainly HIV, AIDS. AIDS is largely responsible for many cases of death here in the Malange province, according to a survey presented by the nurse speaker, Sister Olympia.
The mission entrusted to us here as SMIC, goes beyond education. On weekends we work with parish formation, accompany groups in the parish and villages. On Sundays we participate in Liturgy with the people. Sister Jane, (Chinese) accompanies Frei Luis in the villages on Saturdays, there, she brings healing to the children and young people. On Sundays, the Brazilian sisters celebrate together with the people in the villages near the school. On October 1st, in the village of Utende, we took part in a celebration of the feast of their patron Saint Teresa of the Child Jesus. It was a celebration full of faith and devotion expressed in songs, liturgy in Kimbundu and Portuguese. After the celebration, the choral group São Paulo (Malange) celebrated with the people.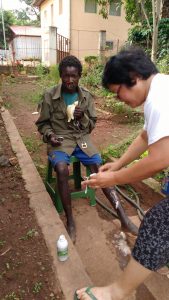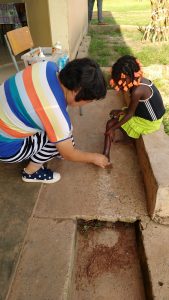 The Chinese sisters ( Sisters Johanna (above) and Jane Frances) work in the health center of the Franciscan Sisters of St. Joseph, serving the Angolan people in their various needs. In addition to their daily work, they go to villages to provide medical consultation. The sisters also give health assistance to the Chinese who live here either going to their homes or attending them in the parish's service room built for this purpose.
We render thanks to God for all that he has accomplished in our behalf for his greater glory.
Sister Marivalda Moraes Ramos
Malange, October 13, 2017
Continue reading about the Geographical Units :: Angola Mission • Taiwan and Philippines • Brazil • Germany • Namibia • USA