Who We Are
click here to view powerpoint: Congregational Beginnings
The Story of the Congregation of the Missionary Sisters of the Immaculate Conception of the Mother of God is deeply rooted in the Brazilian soil of the Amazon since 1910 marked with the characteristics specific to Franciscan Bishop Amandus Bahlmann, and Elizabeth Tombrock whose religious name became Mother Immaculada of Jesus.
August Bahlmann was one of two sons of the Bahlmann family who while a youth in Germany, experienced the "kulturkampf" (struggle for culture) which led to the expulsion of Religious Congregations. Having a desire to follow Christ as a Franciscan, he left Germany for Saxony to join the Order of Friars Minor. He became a teacher of philosophy at the Seminary in Werl but in 1891 changed his personal direction from teacher to missionary to Brazil. Here his superiors gave him the mission to renew Franciscan Religious Life in Brazil. Later, at the beginning of the 20th Century another change of mission brought him to the Amazon forest to realize the work of the salvation of souls and the conversion of pagan Indians. Arriving here, his first great concern was to find a religious order that would dedicate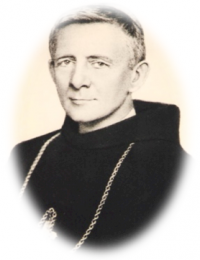 itself to education. In his "Memoirs" written in 1919, he said: "Education of female children can only produce good result if it is done by religious." Coming from Germany, where teaching was long established as obligatory, he knew that education was a need for each person and also a shorter way to evangelization.
As he found no Religious Order in the south of Brazil who would take on the project, he invited contemplatives from the Ajuda Convent in Rio de Janeiro to "work for the salvation of souls, teaching children, educating abandoned girls and working directly to guide immortal souls to God" (Memoirs, p. 132). Four Religious immediately accepted but Dom Amando wrote later: "One thing however concerns me a lot is do these religious who have lived forever in the cloister know how to teach girls? The Abbess of Ajuda gave me good information but I still have my doubts. With such thoughts he went to Germany asking God and the Holy Virgin to show him a teacher" (Memoirs p. 134).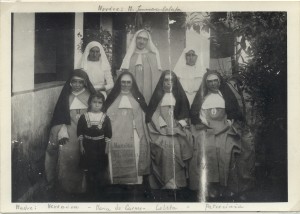 (photo left to right front: M. Veronica, M. Maria do Carmo, M. Coleta, and M. Patrocinia. Standing center is Elizabeth Tombrock –M. Immaculata of Jesus. The two other Sisters and child are unidentified.)
Divine providence sent a young teacher to join him in this adventure -Elisabeth Tombrock, who, cured the previous year from tuberculosis of the bone, vowed consecrating herself to God by assuming the work of educating children and youth. In the first chronicle of the congregation which she herself wrote: "after six or seven months I was thinking insistently: you should become a Poor Clare! The call was becoming ever stronger (…) What could I do? I promised my dear Lady of Lourdes: I was cured for the school and therefore for children, for youth for them to preserve their innocence; to save souls I will dedicate all of my strengths until the last breath. What will I do now?"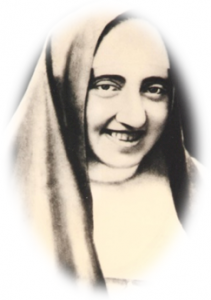 We know the details of the meeting of Elisabeth Tombrock with Dom Amando. She would now go to fulfill her promise and enter a new foundation. The Mothers of Ajuda and the postulant Elisabeth Tombrock offered a legitimate beginning to the young Order of the Missionary Poor Clares of Santarém, of the Our Lady of Lourdes Convent. Elisabeth Tombrock would be a Poor Clare and a teacher. God answered her prayer.
Three years after the Sisters' arrival in Santarém, Santa Clara School was built. Soon girls from Santarém and the surrounding villages came to study either as intern or extern students.
As more vocations from Germany arrived, the Sisters began to offer services of health care at the São José clinic and also expanded education and pastoral services to other areas of Pará including the colonia of São José, Monte Alegre, Orixímina, Obidos, Alenquer, Itaituba, and Jacaréacanga. Outside of the Amazon area, other Brazilian missions were also begun in the States of Ceará, Maranhão, Sergipe, Pernambuco and Bahia with a novitiate house located in São Cristovõa, Sergipe.
In 1912 M. Coleta and two Brazilian novices responded to the needs of the Franciscan mission to the indigenous people of the Munduruku tribe deep in the Amazon Region of Pará. Since that time, the Sisters have been a mainstay in providing health, education and catechetical instructions.
In 1922, Mother Immaculata's direction of service also changed. With a sad farewell to the Brazil she loved so much, she travelled to the United States to raise money for the support of the Brazilian missions since post war Germany was no longer able to give financial assistance.
While in the US, Mother Immaculata fell and became paralyzed thereby making a return to Brazil impossible. Consequently, the Congregational headquarters (Generalate) were established first in New York and later moved to West Paterson, New Jersey, USA where it continues until today.
All along, God's plans were being revealed to Mother Immaculata to continue to respond to the needs of the Church in other parts of the world. In response to other invitations, she sent Sisters to China, and later to Taiwan, the Philippines and Africa . Thus the Congregation would become an international group open to mission fields in other countries.
Bishop Bahlmann and Mother Immaculata, left a heritage of courage and determination to proclaim the Gospel message to the Missionary Sisters. Presently the Missionary Sisters are active in building up the community of faith and collaborating for the growth of humankind in eight countries. This vision continues to call us to respond to present challenges and opportunities through our charism:
To be a contemplative, compassionate presence to all, in constant readiness for Christ's mission, especially among the most needy.
Continue reading about our Mission and Spirit, Vision Statement and Directions 2016-2022
Continue reading about the Province histories :: USA • Germany • Asia • Namibia • Brazil