Germany
Our Vision as a German Province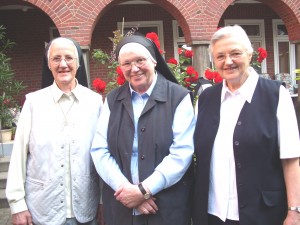 Province of St. Joseph – Germany
Leadership Team: Srs. Rita, Andrea, Franziska
We just completed the writing of our German Province History or even more the writing of our German involvement during the 100years of our Congregation. At the reflection of our 100 years history, our view was guided from the distance to the vision of our sisters in the past ages. From all chronicles and reports of our sisters, the ardent love of their missionary vocation is shining through. This call let them step into the shoes of our founders. They took over Mother Immaculata words and vision, to help "saving souls for God". At that time, the sisters saw themselves send into a huge harvest. With heroic courage – from our view today we have to say this – they immersed into her mission. Their firm faith, their confidence in God's goodness, which everything can direct and guide, their prayer and love to Jesus, which were given them through Mr. Immaculata, carried them over precipices of disappointments and despairs. They experienced also that they were supported by their prayers and the material support of many good people, especially their families supported them in many ways.
And today? Where is our vision in our today's situation, in this time of lack of vocations, where faith seems to vanish, in times where our own faith is threatened?
We believe that God, who called our sisters in former times, is calling also today and is going with us, too. Also as we go through a valley, we do believe in his guidance.
To live our congregational vision today in our small German Province we see it as follows: To live as believers in a praying, loving community, helping each other in our daily lives and bringing the church, the whole world and creation before the Lord. In particular, we bring our congregation, its progress and difficulties and especially our young sisters and all this petitions for prayer which people entrust to us before the Lord. We hope and believe that our sisters, like our former sisters will continue to be true missionaries for the church and world.
Follow the SMIC German Sisters on their website: http://www.missionsschwestern-muenster.de
Continue reading about the Geographical Units :: Angola Mission • Taiwan and Phillipines • Brazil • Germany • Namibia • USA