New Leadership, USA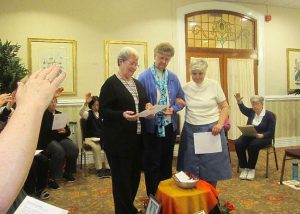 On the weekend of May 3rd, 2019 the US SMICs met in Denville, NJ to discuss their future 3 year journey now as a UNIT (instead of a province) of the Congregation. The meeting took us through tender memories of the past and to thoughtful ways that collectively we can continue to respond to the urgent issues of the day,.
The Unit decided to continue with the same two hot issues that remain challenging for these times: immigration and care for our planet. Aside from these issues, the Unit also commits itself to responding to the Congregational issues discussed at the 2016 Chapter: unity in diversity, integration of Franciscan prayer, ministry beyond borders, ecological conversion.
Beyond listening to administrative reports, the Sisters heard from Sr. Janice who shared her visit to Honduras in March with an interfaith group to consider the Root Causes for Hondurans seeking asylum in our Country.. Janice was accompanied by Associate Norah Nolan Cramer on a Skype extension who also related her experiences. The Sisters actively had many questions and offerings focusing on what we can do here in the USA to respond to this challenge. During the last day of the gathering, the SMIC community prayed a blessing over Janice who will be representing the collective commitment by presenting her findings to governmental officials, parishes and other groups.
A new leadership team was elected with Sr. Kate Conti as Unit leader, and Sisters' Saundra McKeta and Janice Jolin as team members. The community blessed them followed by hugs of appreciation sending them forward to serve.