Common Formation 2019 in Brazil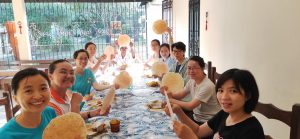 Life Sharing from Common Formation House
The Arrival of Sisters
Five of us set out from St. Francis Convent at around 3 O' clock on June 27, so we arrived at Manila Airport very early. After a long trip of three flights, we finally came to our destination, Belem Airport, at 00:50 am June 29 (Brazilian time). During this trip, we were so glad that we could take care of each other's needs and deal with different situations. There were two interludes we have encountered during this journey. The first one was that when we were passing Manila Immigration, three of us were overcharged by an officer. We patiently explained our cases to her again and again, but she just ignored us and insist to charge us the amount of ₱. 2880, which she had informed us in the beginning. Thanks be to God that we had plenty of time and enough confidence to look for an assistance from her supervisor and got our money back.
The second interlude was, after arriving at St. Paolo Airport, we found that one of our luggage was missing. We tried all possible ways but still cannot find it, so the officer asked one sister to leave contact information for later notice. After three days, Sr. Lioneide and Sr. Wanderleia received the luggage and brought it in person to the house we are living.
On the next day of our arrival, Sunday afternoon, our second group, Sr. Itana, came to join us. Sr. Itana (the first sister from the right in the picture) was accompanied by Sr. Lioneide, Sr. Wanderleia, and Sr. Conceicao who has been in Cururu Mission for 46. We sung a welcoming song in both English and Portuguese to welcome Sr. Itana. During that period, our senior sister, Sr. Conceicao, generously shared her many inspiring stories in Cululu Mission, and Sr. Claudia played the role of a translator, by whom we could understand each other. We, as a younger generation, were so inspired by our dear Sr. Conceicao's passion and love to her mission In Cururu.
This early morning, Sr. Lioneide, Sr. Wanderleia, Sr. Claudia, and Fr. Adalberto went the airport to pick up our four Vietnamese sisters. Five of us stayed at home and prepared some simple food and drink to wait for their coming. We are very grateful that ten sisters have safely arrived here so far, and we are still waiting for the last member, Sr. Helena, to join our community. The Arrival of the Four Vietnamese Sisters received a Warm Welcome when we walked into the Luggage Hall,and saw our Brazilian sisters were waiting outside the Hall and waving their hands to us. We were so excited to get our suitcases back and to meet our sisters and their friends. Our sisters had offered three cars to pick us up and our suitcases: Sr. Wanderleia, a friend of sisters, and Fr. Adalberto, each drove a car. From our last plane to meeting our sisters, the only word we could understand and speak in Portuguese is "Obrigada", "Thank you", and it worked great to express our gratitude to our sisters and the people we met. We thank our Brazilian sisters from the bottom of our hearts for everything they have done for us, and we are so touched! From Sr. Lioneide and Sr. Claudia, we knew that some of our bedrooms were newly reconstructed, and many other living necessities were just purchased. Sr Claudia had worked very hard to prepare everything for us, and Sr. Mayane, a junior professed sister, had offered her precious time and energy to help Sr. Claudia to get things ready. We also have a small yard where Sr. Lioneide had planted some vegetables for us in advance.
Life in New Community
From the first day of arrival, we tried to adjust our time and to share some duties in our new community. Five of us take initiative to clean, cook, lead prayer, open the door, as well as prepare rooms for our Vietnamese sisters. Here we would also like to share a tidbit to you. One day, during a meal, we mentioned the Canonization of Sr. Dulce. All of us were so eager to attend the celebration planned to take place in Salvador on October 20, the tickets, however, are expensive to afford. Sr. Faustina, Sr. Naomi, and Sr. Amelia said, that each of them would keep their long hair growing in order to sell it and add a small portion to the expense of the tickets. We also asked Sr. Claudia the place to sell hair and its price. In order to save money, we only had watermelon skin as the only veggie dish for the upcoming supper.
During one of the next day's meal, while we talked about the miracles happened through petitioning to Sr. Dulce, one of us said that we could ask Sr. Dulce to help us grow long hair faster after each cut, so that we could have enough money to buy our tickets. Later, Sr. Itana shared her one month's experience of working in Sr. Dulce's Hospital, where she had personally encountered Sr. Dulce and were influenced deeply by Sr. Dulce's attitude and action of loving God and serving the poor. Through listening to Sr. Itana's sharing, we felt that we had indirectly met Sr. Dulce and were affected by her spirit. Sr. Dulce, pray for us and help us to learn how to love completely. Sr. Teresa, Sr. Faustina, Sr. Naomi, Sr. Boscona, and Sr. Amelia
July 4, 2019